IT'S TIME FOR A BEAUTIFUL SWITCH
Put the perfect finishing touches on your home with light switches, dimmers, outlets and wall plates from the adorne Collection by Legrand. Legrand is redefining the household light switch with groundbreaking functional design. Legrand has launched adorne™, a distinctive collection of switches, dimmers, and outlets; wall plates; under-cabinet lighting; and wireless home systems. The adorne™ collection combines beautiful design, innovative functionality, simple installation, and easy customization for discerning homeowners and designers.
Perfect for remodels, adorne™ elements fit in existing electrical boxes and require only 15 minutes
and a screwdriver to install. It's the perfect Saturday morning project that takes minimal effort, but makes a big impact on your home. Each switch, dimmer, or outlet wires the same way as existing electrical products. To install adorne™, you simply remove the existing switch, mount adorne's included metal frame to the wall, then pull the wires through the frame and attach them to the device. Then, snap on any adorne™ wall plate — all of them screwless — and you're done!
Under-Cabinet Lighting System
The adorne™ Under-Cabinet Lighting System consolidates lights, power, music, and mobile device docking options into a modular system that eliminates clutter and cord mess. The system is customizable with modular LED puck or linear lights, power outlets, USB ports, music systems, and mobile charging cradles, and is easy to reconfigure by simply relocating outlets, lights, and accessories as needs change.
A low-profile, under-cabinet track powers the modules and is available in three sizes. The track simply plugs into an existing outlet or can be installed with in-wall wiring to eliminate the need for a visible cord and outlet on the backsplash.
Wireless Systems for the Home
Easy-to-install wireless systems for the home provide single-room or whole-home lighting control, music, and video intercom solutions. These systems require no re-wiring, yet they allow homeowners tremendous control over their home environment including wireless lighting controls, wi-fi music systems and a video intercom system which allows homeowners to see, hear and communicate with someone at the door, or throughout the house with the touch of a button.
Light Switches, Dimmers, Outlets, and Wall Plates
A key segment of the adorne™ collection is the electrical products including switches, dimmers, and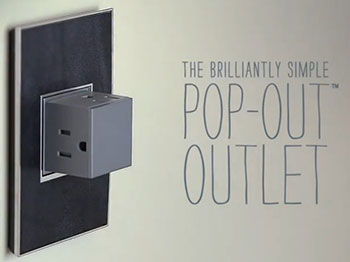 outlets that feature an innovative square design. These products fit flush within the wall plates and eliminate the need for visible screws. The collection includes 32 finishes and styles to fit any décor whether it's traditional, eclectic, cottage, or contemporary. Light switches include touch screen technology to power lights on and off, a Wave™ Switch that turns lights on and off with the wave of a hand, and an energy-saving SensaSwitch™ that turns lights on and off when people enter and leave the room. And to help light the way at night, switches and dimmers feature convenient locator lights. Any adorne™ product can also be combined with the innovative Accent Nightlight, which provides a subtle wall wash and functions as an accent light during daylight hours and a nightlight after dark.